| | |
| --- | --- |
| | Hempstead |
Fowle Family
Members of the Fowle family worked mainly as farm labourers or gamekeepers on several of the farms in Hempstead including Green_Farm, Hole_Farm and Red_House_Farm and were well respected members of the community.
In the first half of the 20th Century, the shooting and fishing on the Gurney family's Hempstead Estate seems to have been enjoyed by many members of that already large and extended family. So much so that they erected a fine memorial stone on the front of the Red House which reads as follows:-
To the honoured memory of
SAMUEL FOWLE
For forty five years keeper on the Hempstead Estate
Born Feb 1830 Died Oct 1906
In testimony of the regard of some of those to whom
he was ever a faithful servant and a pleasant companion
JOHN HENRY GURNEY
HUGH, FORD, GEORGE, CAMERON and THEODORE BARCLAY
S GURNEY, EDWARD N, and FRANCIS W BUXTON
ANDREW JOHNSTONE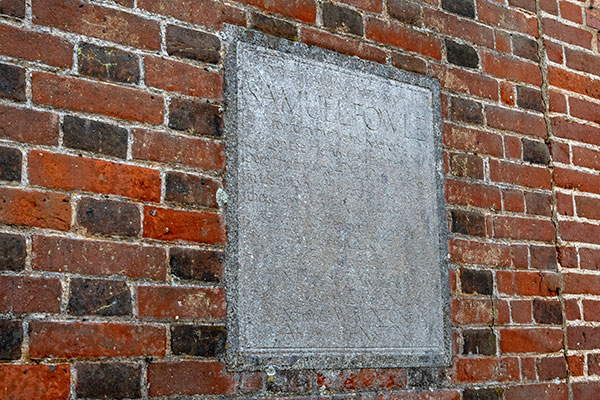 Tablet on Red House Farmhouse in memory of Samuel Fowle
inscribed by the famous calligrapher Eric Gill
The tablet is made from Hopton-Wood stone and was sculpted by Eric Gill. In a book recording Gill's "Inscriptions" for 1906-1907, it is recorded that the table was "commissioned and designed by Edward Johnstone for his brother Andrew" and that "the composition of the inscription is exceptional".

Samuel Fowle (1830-1906) was buried in Hempstead churchyard and was the uncle of Samuel Fowle 1862-1956.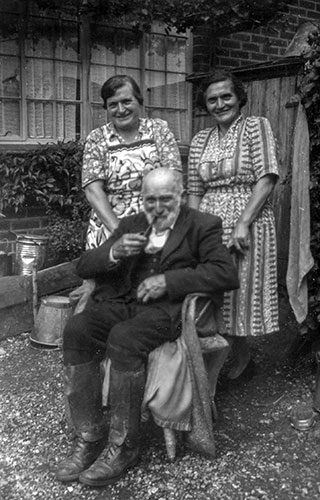 Hannah with sister Gertude or Mary standing behind their father
Samuel Fowle (1862-1956) - c.1952
Census 1921 - Samuel Fowle was living in a 7 roomed cottage with his wife Martha and daughter Hannah
(Francis) Claude Fowle at Green Farm - c.1955
Francis Claude Fowle (1890-1980) and Anna Althea (1889-1970) had a daughter
Claudine Elizabeth (1916-1998) and a son Alfred Cornelius (1921-1988)

Claude Fowle is commemorated on the Church reading desk.
Census 1921 - Claude Francis Fowle was living in a 5 roomed cottage with his wife Annie and daughter Claudine
William Fowle (1870-1960) was the younger brother of Samuel Fowle (1862-1956)
Of the fifteen men employed on the farm, eleven of them had worked there since they left school.
The headman William Fowle had been there 52 years from the time Mr. Hagen took the farm in 1883.
Census 1911 - William Fowle was living in a 4 roomed cottage in Pond Hills with his wife and 4 other family members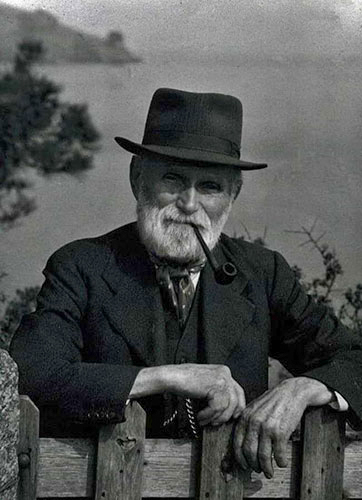 William Fowle - c.1945
William and Samuel Fowle's aunt Ann (1818-1897) married John Hardy (1805-1896)
at Hempstead on 14th March 1888.
John worked as an agricultural labourer, probably at Hempstead Hall Farm

| | |
| --- | --- |
| | |
| Charlotte Rowe | Henry John Fowle |
William and Samuel Fowle's younger cousin, Henry John Fowle (1865-1905)
married Charlotte Maria Rowe (1870-1956) at Hempstead on 14th March 1888.
The couple then moved to County Durham where Henry became a coal miner but later committed suicide
leaving a wife and eight children - Newspaper report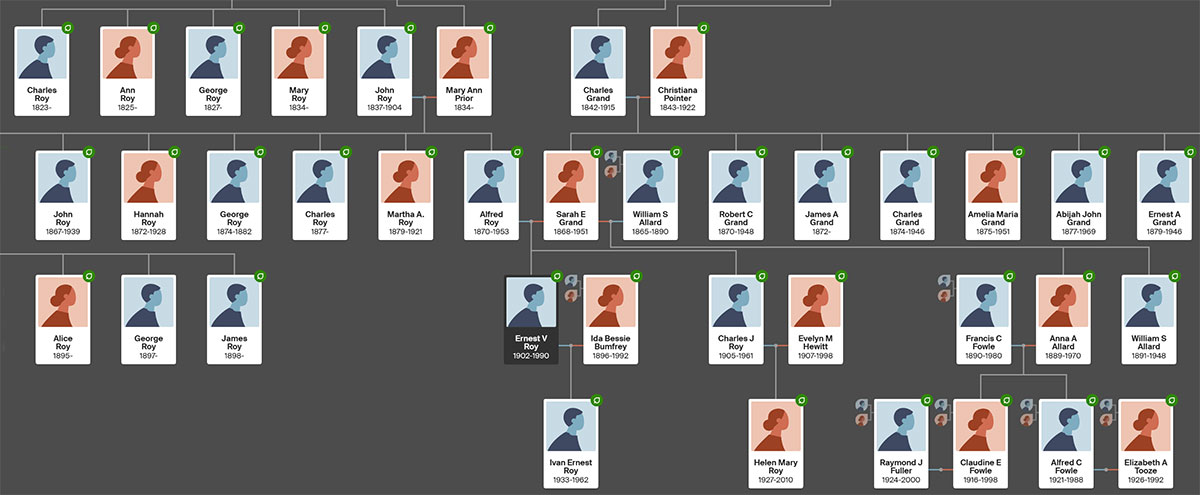 The Fowle and
Roy
families became connected when Alfred Roy's (1870-1953) stepdaughter Anna Althea (1889-1970) married Francis Claude Fowle (1890-1980)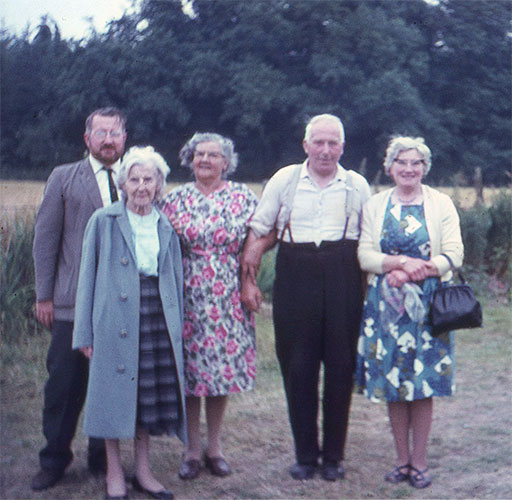 left to right - Alfred Fowle (Anna Althea's son 1921-1988)
Alfred's mum Anna Althea Fowle
(née
Allard 1889-1970)
Ida Roy
(née
Bumfrey 1896-1992) husband Ernest Roy (1902-1990)
and Alfred's sister Claudine (1916-1998)
Anna Althea Allard was Sarah Grand's daughter by her first marriage to William Allard. Ernest Roy was Sarah's son by her second marriage to Alfred Roy. Anna Althea married Francis Claude Fowle. Alfred Cornelius and Claudine Elizabeth were their children.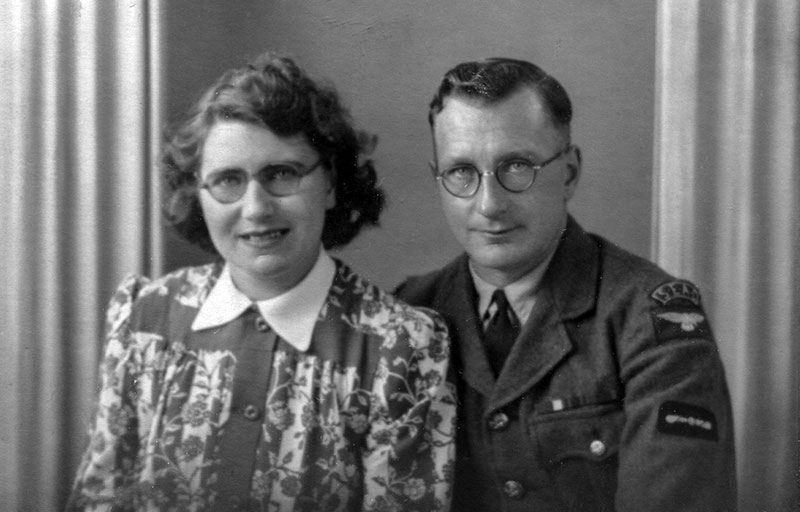 Claudine Fowle and brother Alfred Fowle - 1945
If you have any memories, anecdotes or photos please let us know and we may be able to use them to update the site.

Please or telephone 07836 675369



Website copyright © Jonathan Neville 2022